Protect Your AdSense Account From Being Banned!
Monitor and Protect all Advertisements on your Website.
Minimize the risk to be banned and excluded from your Adsense account due to malicious third party clicks on advertisements on your website. Works with other ad publishers as well – not limited to AdSense.
Click on Amazon ad below to understand how Adsense Click Fraud Monitor works:
Click on this demo AdSense advertisement and see it disappearing immediately:

Click on it once and your IP gets blocked. You´ll see the ad disappearing in real time without reloading the complete page. That's an Amazon ad with removed affiliate referrer only for demonstration purposes. So we don't earn anything from your click.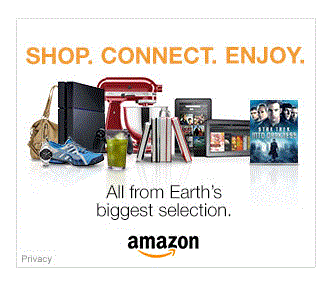 If you do not see any advertisement here means that your IP is already blocked
All blocked IP addresses will be deleted every day at 00:00:00 UTC so you can try again then.

Aug 30, 2019
I highly recommend the plugin to every Google Adsense user
Mar 15, 2019
Thanks for your work
New: Version 2.1.3
* New: Compatible with WP 5.3.3
* Fix: Plugin not updated with automatic plugin updater
* Fix: Error in csv export function
Complete changelog
Compatible up to latest WordPress version!
Why i need Click Fraud Monitoring?
Prevent malicious clicks by bots on your Ads
Prevent malicious clicks by a human user on your Ads
Prevent clicks by friends on your Ads who want to "help" you.
Prevent unintended clicks by your own
Block your own IP
Use custom name for your ad block class
Blocks a comma separated list of specific IP´s including detection of your own IP
Export all clicks to CSV
Export all blocked IP addresses to CSV
E-Mail notification for malicious activity on your site
Features
Disable Ads when a user clicks multiple times on them
The userr will be banned and blocked for further clicks
Manual blocking by entering a list of several IP addresses
Automatic Unblocking of ip addresses
Support for third party caches like W3 Total Cache, WP Rocket, WP Super Cache
See URL and path of clicked ads
Statistic and analytic: See all clicks on yours ads, sort able by IP, URL and Time
Works, even without reloading (jQuery and Ajax)
Works with every Theme
E-Mail notification for blocked user
Activating and disabling of all Ads with one click
Use it in content, sidebars and widget sections
Simple installation and setup
No garbage left: Removes all plugin tables and settings in the WP database when uninstalled
Service and support by the author
Periodic updates and improvements.
…and the last but most important:
It protects your AdSense Account from getting banned
How does it work?
The Plugin counts all clicks on your Ads. When the clicks exceeds a specified number it will be deactivated and hidden. The clicking user or bot will be blocked on a IP basis for further clicks. At the same time the plugin sends you a notification by email.
Why would Google ban me?
In easy words: Google takes care that every click on any AdSense advertising is done by a real human visitor. Automatic clicks by crawl bots or a lot of automated or manual processed clicks (a so-called Clickbomb) can lead to a complete and permanent exclusion from the Google AdSense service. All your earnings are lost and it is very hard to get back the access to your account. (In most cases impossible)
The motivation behind such automatic clicks is very different. Maybe some competitor wants to harm you or a technical leads to multiple clicks by a human user. They all have in common that you as the AdSense account owner are responsible for any click fraud. You recognize unusual clicks when your page CTR is 1 – 3 % averaged and than it jumps up to 5, 10 or even more.
This is where the "Click Fraud Monitor" comes in…for prevention!

Aug 30, 2019
I highly recommend the plugin to every Google Adsense user
Mar 15, 2019
Thanks for your work
May 24, 2018
Awesome Support! Great working tool
Feb 27, 2018
Amazing Plugin
Thank You For This Amazing Plugin. Its Works Fine 👍🌟🌟🌟🌟🌟🌟🌟🌟🌟🌟🌟🌟🌟🌟🌟🌟🌟
Images
Settings
Detect non AdSense Elements

FAQ
Frequently Asked Questions
1. Is the use of the plugin against the Terms of Service (ToS) of Google AdSense, is the ad code modified?
No, it´s not against the terms. The AdSense source code is not changed in any case.
2. How does the plugin count the clicks?
The plugin detects clicks on AdSense ads and count them internally in the database. If clicks exceed the maximum allowed ones it hides the < ins> tag of the AdSense tag via js and css. Google explicitly stated that Its allowed to hide the < ins> tag of AdSense via CSS if you are using the universal responsive analytics code which is loaded asynchronously. Do not use the plugin if you are using the old class code.
3. Does it work on WordPress MU (Multisites)
Not tested yet. Please let me know if you have any issues or if you test it successfully.
4. Does it work with YOAST SEO
5. Does it work with installation on localhost?
If you are testing on a localhost environment make sure that you are running your site on http://127.0.0.1/. If you are using http://localhost the plugin is not able to block your access for testing purposes.
6. Is there a 100% guarantee that this plugin prevents you from exclusion of your AdSense Account?
Due to the possible technical eventualities like rotating IP addresses there is no 100% safety. But this plugin helps you are lot to minimize the risk to be banned because of any malicious clicks.
It´s developed on a regular basis to cover as many eventualities as possible.
7. Does it work with WordPress Quick AdSense and WP QUADS Plugin?
Yes, its working with every available AdSense plugin. Other supported plugin are Advanced Ads or the official Google AdSense plugin
8. Does it work in sidebars and widgets?
9. Does it work with alternative ad venders or only with AdSense?
It´s working with other pay per click ad vendor. It´s not focused on AdSense
Reviews
Average rating:
22 reviews
Aug 30, 2019
I highly recommend the plugin to every Google Adsense user
Mar 15, 2019
Thanks for your work
May 24, 2018
Awesome Support! Great working tool
Feb 27, 2018
Amazing Plugin
Thank You For This Amazing Plugin. Its Works Fine 👍🌟🌟🌟🌟🌟🌟🌟🌟🌟🌟🌟🌟🌟🌟🌟🌟🌟
Jan 23, 2018
Works as intended
Thank you for the great product. I use it on all my websites.
Nov 9, 2017
I love this plugin
Easy to install and very simple to use. Fire and forget. The clickfraud Monitoring Plugin is working very well.
Apr 18, 2017
Exactly what i was looking for
This plugin helped me to protect my AdSense account from getting too many invalid clicks. Thanks to the author of creating such a great plugin
Nov 2, 2016
I installed the plugin and all my AdSense ads were protected immediately from click abuse. If you have any question the plugin the author will also respond to your questions quickly. Thanks Rene
Sep 6, 2016
New version is working great
Had a problem with old version of CFM but new version is running perfectly on my websites
Aug 14, 2016
Awesome
The plugin works perfectly and prevent my site ads from getting clicked again and again. The CPC of my ads are also increasing after using the clickfraud monitor. Thank you René for your support.